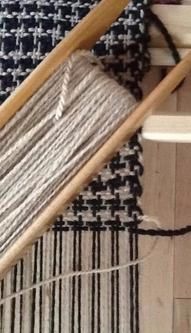 Rug Hooking by Jitterbug Rugs
Bev Hills
Hooked Rugs with a Twist –We use Yarns!
April 11th 10am -12:30pm
Cost: $80 with a Hartman rug hook or $50 with a Moshimer rug hook
For beginners and those who have already taken the class and want a refresher and continue hooking.
Class will include a hand-drawn pattern on a linen foundation, hoop, hook, yarn and fabric
strips.
Instruction will demonstrate traditional hooking, proddy, finishing your rug and more.
The bent Hartman hook aids the beginner hooker
to pull the loop up and to the side.
Extra hooks, fabric strips, linen foundation and
hem binding will be for sale. Extra yarn and wool
is for sale at WMW and Lani's Lana.
Free hooking magazines to students!
https://lanislana.com/products/rug-hooking-by-jitterbug-rugs

2020 WoolGathering  Save the Date!!  September 9-13, 2020